Home /
Apps /
Beach Water Surfing Car Games: Car Water Games
0.11
Water surfing car game is a car game 2020 water car stunt.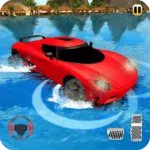 Download APK
Description
If you are looking for Surfing car games then you should search for water surfing car games 2020 and you will have many search results.
Selecting the perfect game according to your interest is very hectic task .So we are offering you this best surfing car game. You will
definitely love this game after playing.
What we are Offering in this game?
We properly understand the interest of our valuable user and we planed to make this amazing water surfing car game.
We designed levels properly so that user enjoy the experience of driving car on water and have real feel.
This game gives you very exciting levels while driving car on water and gives you time to hit all the levels.
Why this game?
In this game there are two modes.
first we are offering level mode in which user will drive the car on water and have to complete all preplanned levels.
second we are offering free mode in which no restriction of levels and time. You just drive the car and have stunts as you want.
This Surfing car game offers you different cars that you have to unlock all and have fun with different power of cars.
Water surfer car game is amazingly designed. There are many surfer levels. Each level is designed carefully with real water surfer and floating experience. If you are interested in water games related to floating car on water then this is perfect game to play surfer game.
We bring water car racing and surfing car in 2020. If you are bored playing water surfing car games and you want something new then here we are presenting you a new water car game.
Beach Car Race
This water surfing car game have amazing beach environment and surfing cars. The scene is beautifully designed and gameplay is amazing in this water surfer racing car game. The clock is ticking and time is running so you have to play fast in surfer game.
Features
-> Amazing Graphics
->Smooth Gameplay
->Beach Environment
->Water Surfer cars
->Multiple Cars
->Multiple Levels
->Free Mode
Amazing UI
Related apps