Home /
Aziz Restaurant
1.3
Awarded Top 10 best indian Restaurant in the UK 2005, 2007 and 2010.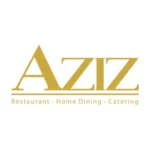 Download APK
Description
Aziz Restaurant has graced Oxford with its fine cusine for over 25 years, and will do for many years to come.'We welcome you to the tables of the Nawab of Bengal, and the poets Quazi Nuzrul Islam and Rabrindanath Tagore, whose household recipes have partly inspired us. If you are a little fond of Mozart, Yeats or cricket, they will be delighted you came. Or why not just eat, drink and be merry?'
Aziz Restaurant Awarded Top 10 best Indian Restaurant in the UK 2005, 2007 and 2010 With our restaurant we have created and ambiance that will make you feel relaxed and welcomed and with our award winning team from the front of house staff to our award winning chefs who will offer you a great dinning experience. The Aziz @ The Tree is located in Iffley is a village in a designated Conservation Area in Oxfordshire, England. It lies within the boundaries of the city of Oxford, between Cowley and the estates of Rose Hill and Donnington, and in proximity to the River Thames.
—–
If you like the App, please show us your support by submitting a review on the Play store. Your review will help us improve the App.
Related apps