Home /
Apps /
AU Results – AU COE Corner
4.0.1
New App for Anna university affiliated college students.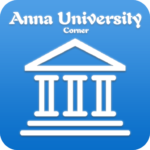 Download APK
Description
This App is very useful for Anna university students.
Features :
*Student Login
– Assessment Details
– Internal Marks
*Grade Calculator
– Calculate Your Grade based on the internal marks out of 20.
*Notifications
– Get all official Anna university notifications about the exams, timetable, pattern and all other news.
*Syllabus
-Download the official Anna university syllabus for your department.
*Results
-Check your Anna university results without any problem.
– For Anna university results our App uses four different available result servers.
-Our app uses external results server other than Anna university results server.
-So you can check results easily without any server problem.
– Check results without Knowing the date of birth.
– Check the full results of your class students with just one click by entering the register number range.
– Anna university results external servers will be available in app as soon as the results are published.
– Anna University results 2016-2017 can be checked in this app.
– Anna university results will be published soon.
Note : This is not the official Anna university app.
Download the app and write your reviews.
Related apps