Home /
Appso: all social media apps
11.0
save space app, all social networks in one app and all in one social media app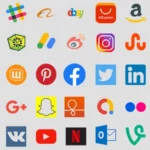 Download APK
Description
✨ — With "Appso" save your effort, time, and storage space on your phone. By All social media and social networks app. It contains a huge number of all in one social media apps 2021, SMS text messaging, and entertainment sites like watching videos via YouTube, Likee, and TikTok, sports sites, and online marketing free.  It also contains local news sites, ads, and global sports websites. On your smartphone.  If you search for all social networks app, get apps now, and you will not regret it.
▶ — Features of Appso "all social media apps in one app": —
📍 — "Appso" social networks apps" saves space up to 70%. On your phone's memory. You will not need to install all social network apps on your phone, as you can save around 140 MB on your mobile phone.
📍 — get apps, You can browse more than 500 applications and sites. Without downloading all programs on the phone. Quick access to advertising sites like eBay and AdMob and message friends via instant messaging.
📍 — all social media in one app 2021. Is a browser for android to save space app. For all apps in one app. You can save space on your phone so that you do not have to download Most of the social networks apps for a chat on your mobile phone.  The Appso "all social networks app" offers shows you marketing applications like Alibaba, and Amazon.
📍 — Sort your bookmarks in a special box on Appso: save space for all social media apps in one app.
🔒 — The social network app is secured with a secret number to maintain the confidentiality of your information and prevent thieves from accessing The accounts of all social networking sites. Such as Quora, Zoom, LinkedIn, and Instagram… etc.
📍 — Provides an in-app search engine. For easy access to all in one app social media 2021. To enjoy the SMS texting, marketing, real estate, telegram reporters as well as advertisements, know the latest international sports news.
📍 — In Appso app "all social networking apps". You find the most famous sites.
✨— Added new media websites in special sections. Such as sports, local news, tourist, travel, marketing, and real estate sites. Targeting depends on your country and language.
📍 — Browser for Android, to browse all social apps in one place. By accessing all social network in one app. You can also access Messenger 2021,  to make friends around the world like Facebook and Telegram.
✋ — Some applications like WhatsApp, Viber, and IMO that do not have a website cannot be accessed by our app. Therefore, they must be downloaded to the phone
👌 — If you like Appso "all social apps in one app" please give us 5 stars and support us with your comments. Or report bugs and suggest any features you want.
🔴 — We are not affiliated with any of the services that can be accessed through social media all in one app. We do not have the right to access your data, nor can we.
Related apps