Home /
Apps /
aCUE-standard
6.10c
Control your home and media with Cue System at affordable price.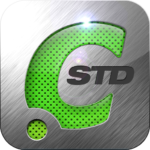 Download APK
Description
This software enables to use any Android tablet or phone as a Cue System control panel. It is a
suitable addition to CUE control panels. The GUI application has to be designed using standard
programming tool – Cue Visual Composer. The wireless communication between the control
panel device and the control system is based on Wi-Fi standard.
Compatible with Android 2.2 or higher
Application designed with Cue Visual Composer
Application upload directly from Cue Visual Composer
Ethernet wireless communication between the panel and the control system
Communication with Cue System units using CUEnet protocol.
Related apps