Home /
राजस्थानी भजन – Rajastani Bhajan
2.5
All in one Kabir Songs, Baba Ramdev vani, Sri Ram , Krishna and Desi songs.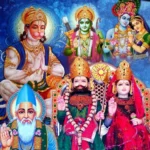 Download APK
Description
The greatest thing about the path of devotion is that you will always feel the love of God. And when you feel that love, you tend to feel protected during every moment of life. And when you feel protected, you tend feel good and happy about life in general.
And the path of devotion is more of a choice. Listening to devotional songs or Marwadi Bhajan can be an awesome experience. Try Rajasthani Bhakti geet and you will enjoy the bliss that is a part of enjoying devotion.
Some songs of Sant Kabir Das are also very soothing. Have you tried listening to Ramdevpir Chalisa? Also, try Ramapir bhajan. We also have songs sung by singers like Allah Jilai Bai and Hemlata.
True devotion is about being a part of the whole. Devotion is about melting the walls that divide man and God. Music serves this purpose of merging the individual consciousness with the divine consciousness. There is no need to worry about taking time out of your daily routine for performing bhajans. You can listen to them while travelling or while doing any other task. That is the best thing about having devotional tunes on your phone.
Download now for free and enjoy them anytime.
Related apps