Home /
Apps /
Курсы Валют (виджет)
5.5.10
Currency exchange, MICEX rates widget and the Central Bank for the dollar, euro, oil and others. Currency.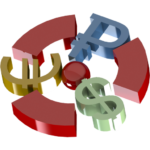 Download APK
Description
Простые маленькие виджеты, отображающий актуальные курсы валют к рублю и нефти (ММВБ и Центрального Банка Российской Федерации).
Виджет обновляется автоматически (по настраиваемому значению) или по клику на дату.
В приложении можно посмотреть актуальные курсы основных валют к рублю, а также их архивные значения. Нажав на выбранную валюту, вы можете конвертировать ее в рубли и наоборот, а также изменять курс конвертации валюты.
Теперь список валют настраивается.
Перенастройка виджета осуществляется по клику на стрелки.
——————
Виджет поддерживает следующие валюты: Доллар США, Евро, Нефти, Фунт стерлингов, Японская иена, Китайская юань, Казахский тенге, Украинская гривна, Белорусский рубль, Австралийский доллар, Армянские драмы, Болгарский лев, Бразильский реал, Венгерский форинт, Датская крона, Индийские рупии, Канадский доллар, Киргизский сом, Молдавский леев, Норвежская крона, Польский злотый, Сингапурский доллар, Таджикский сомни, Узбекские сумы, Чешская крона, Шведская крона, Швейцарский франк, Южноафриканский рэнд, Вон Республики Корея.
Related apps